Keith Donaghy Hearing Care joins Arnold Hearing.
Keith Donaghy Hearing Care joins Arnold Hearing.
06 November 2020
Oxford-based hearing care provider has served the local area for nearly 15 years. They are now joining forces with the UK's longest established independent hearing care provider to expand services and provide world-leading hearing solutions to existing customers and help others hear more and hear better.
The move from KD Hearing to join Arnold Hearing Specialists comes after an expansion opportunity arose that would benefit the loyal customer base and provide a broader product range from the world's leading hearing aid manufacturers including hearing aid accessories for TV and phone.
New owners - Arnold Hearing Specialists have entirely revamped the clinics and invested in world-class hearing booths to provide the most accurate hearing test results possible to offer the best hearing solution for each individual's needs.
Arnold Hearing Specialist is a family run hearing care provider dating back to 1936 when father and son team established the business, and since then, they continuously stay at the forefront of hearing technology.
Director Ian Arnold shares his thoughts on the Banbury and Witney branches: 'Having known Keith and his team for many years, I saw this as an excellent opportunity to expand our clinics and services into Oxfordshire in addition to our Midlands clinics.
We've given the independent clinics a modern makeover and implemented the necessary COVID protective screens and procedures to protect clients and staff.
We are delighted to be expanding the team and introduce our newest team member - Dharmin Neik BSc (Hons) RHAD MBTA.'
Dharmin (pictured below with Lisa) is a highly qualified hearing aid audiologists and brings with him a wealth of experience that includes developing and managing nationally recognised clinics in complex hearing difficulties and tinnitus management at leading NHS Foundation Trusts including John Radcliffe Hospital, Oxford.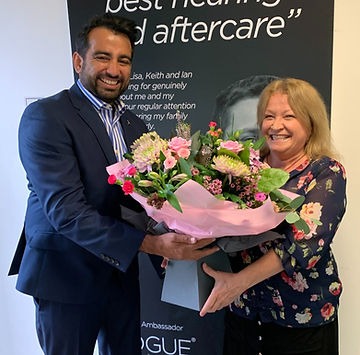 KD Hearing service manager Lisa Summarsell will be leaving the team at the end of November to be closer to home. Lisa shares: 'I want to thank all our lovely customers – it's been a delight, and I'm leaving you all in good hands with the team and Dharmin as our new lead hearing aid audiologist'
The newly rebranded KD hearing clinics, now known as Arnold Hearing Specialists will be kick-starting the new service plan for all existing customers by hosting a covid safe 'See-Try-Hear event. All existing users have the opportunity to try the latest technology that delivers the purest, natural sound ever! For those that are unsure if they have a hearing problem, the Banbury and Witney branches are offering free hearing assessments.
The range of services from the Banbury and Witney hearing clinics includes free hearing assessments, ear wax removal and world-leading hearing aids and hearing aid accessories to hear TV and music just like you used too.
To book your exclusive at the event call Banbury: 01295 255131 Witney: 01993 709 955