Compare Independent and National Hearing Care Providers
30 April 2021
Do you shop on your local high street and buy from shop owners that's kept the business running from generation to generation or do you buy from multi-national companies that appear to be closely quickly and over night?
When looking for hearing clinic, you are looking for someone to provide you with continuous hearing care, regular aftercare and check-ups over the years not just one-off transactions. Arnold Hearing Specialists is a member of AIHHP (Association of Independent Hearing healthcare Professionals) this is a Centre of Excellence for independent healthcare.
To be a member of AIHHP we must continuously meet strict criteria in terms of equipment and service levels. We are in constant review to ensure we represent the highest standards of 'best practice' in our hearing care profession.
A recent survey asked more than 400 Which? members about their hearing aid buying experiences with high street retailers including Boots hearing care, Amplifon, Specsavers Hearcare and Hidden Hearing.
The survey asked hearing aid customers about the range of products they offer, hearing aid prices, customer service and facilities at the UK's biggest hearing aid retailers. The table below shows how each shop performed in the survey;
Above table shows scores and ratings based on an online survey conducted in March and April 2014 of 407 Which? members who had bought a hearing aid from Amplifon, Boots, David Ormerod, Hidden Hearing, local independents and Specsavers.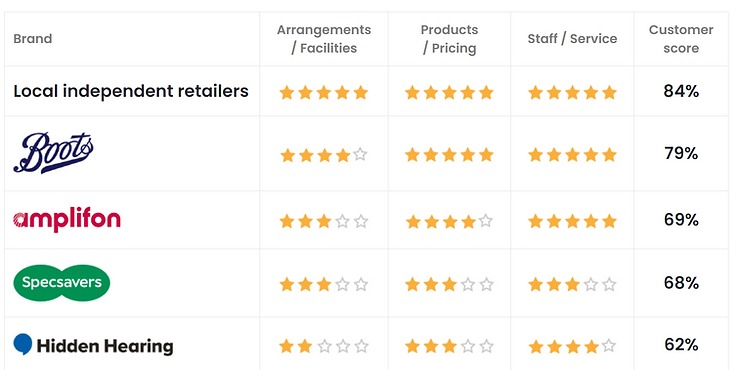 Find out more about what makes our independent hearing healthcare clinic different or contact us for an informal chat about your hearing needs.